CONFERENCE LOCATION
The Conference will take place at the hotel Pallini Beach , located in Kalithea, Chalkidiki, an outstanding resort site, about 90 km from Thessaloniki and 75 km from "Macedonia" airport. The hotels are of category A with excellent conference facilities, bars, taverns, restaurants, summer sport facilities and private beach. They lie within less than 100m from each other.
They can be reached from the airport by taxi cab. The price will be around 45 Euros. We will also arrange for additional transportation with private cars.
Halkidiki has one of the highest sunshine records in Greece, endless sandy beaches, pine wooded mountains and olive-clad hills, green valleys and many interesting relics of the past. Greek cities, like Olynthos, Stagira (birthplace of Aristotle), Potidea, Athytos, Mendi and many others were founded there as back as the 8th century BC.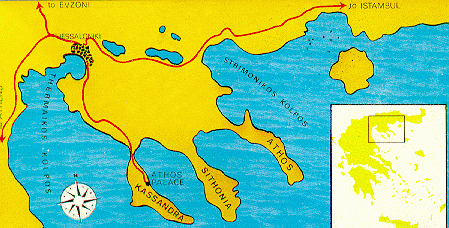 ---
| | |
| --- | --- |
| | Pallini Beach Hotel and Bungalows is A' Class magnificent resort complex in the unspoiled peninsula of Kassandra in Halkidiki. |
500 Hotel rooms, Suites, Bungalows and de luxe Apartements all sea view, will luxurious decor.
Disco club - Main Restaurant -Seafood Restaurant - Cafeteria - Numerous Bars - Congress hall -Correspondence room.
Outdoor swimming pool and a second indoors under a dome of glass - Tennis courts - Volley Ball - Mini golf.
Open air movie theatre -television-Airconditionin-Shop gallery.
Private sandy beach - Yacht Harbour - Water skiing- Sailing boats - Motor boats - Rowing boats - Parachuting - Approved area for skin diving- Fishing - Shooting -Horse riding.
Halkidiki's most attractive peninsula of Kassandra, the unexplored vacationland of Greece.
Thick woods of pine trees and miles long white sandy beaches with crystal blue waters offer a unique scenic beauty for pleasant recreation and peaceful relaxation.
Variety of organized excursions to Thessaloniki - Pella - Amphipolis - Philippi - Mount Athos - Mount Olympus - Meteora.
---