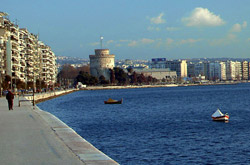 Thessaloniki
is the second largest city in Greece, with almost one million inhabitants. It is an important economic, commercial, intellectual and cultural centre for Greece and South-East Europe. Thessaloniki is one of the rare cities in Europe having a long and continuous history. Prehistoric settlements prove that the area has been inhabited since the fifth or sixth millennium BC. The real history of the city began around 315-316 BC when Kassandros, husband of Thessaloniki, sister of Alexander the Great, unified 26 neighboring settlements into one large town, which he then named after his wife.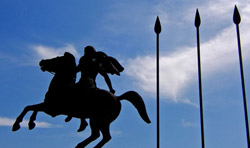 Since then, the exceptional strategic and geographical position of the city and its rich inland made it an important centre during the Hellenistic, Roman and Byzantine periods, as well as throughout the years of the Turkish occupation. Thessaloniki has always been considered as a major metropolitan area in the region, linking Western Europe and the northern Balkans to the "eastern Greek world" and the eastern Mediterranean world. The important role of Thessaloniki is also demonstrated by the consecutive visits that the Apostle Paul paid it in 50 A.D. and 57 A.D. Here, Paul established the first Christian church in the European continent. Today, the city is the second most prominent economic and industrial centre of modern Greece. Some of the spots that mark its flourishing economy are the port, which is the primary port of Northern Greece and the southern Balkans, the international airport, the industrial area and the International Trade Fair (Helexpo).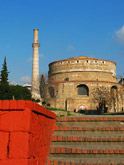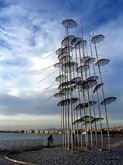 Its long multiethnic and multicultural history is documented in a wealth of monuments, from ancient ruins dating 23 centuries back to important churches dating from the 5th century and still in use. Conference attendees will have the opportunity to visit all monuments and museums in guided tours, organized by the conference secretariat during the conference. Thessaloniki is a contemporary, diverse city that offers all modern facilities while at the same time remaining cozy and friendly. In its cosmopolitan atmosphere, street cafes and tasteful restaurants be they traditional or trendy to combine life in the fast lane with the art of relaxing. As a financial and trading centre, Thessaloniki boasts a shopping district that offers a large variety of local and imported products.
The choice of Thessaloniki as "Cultural Capital of Europe" for 1997 was a fair recognition of the city's significant cultural activities and history. The Archaeological and Byzantine museums, the numerous well-preserved antiquities and churches, along with the concert halls, theatres, rich culinary tradition and night life, all make Thessaloniki a wonderful place to live and work in.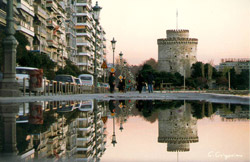 Relevant Links:
Municipality of Thessaloniki
http://www.saloniki.org