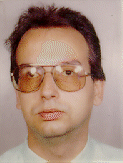 Dr. Christos Vozikis
Research Associate, B.Sc., Ph.D.
Department of Physics, Section Astrophysics, Astronomy and Mechanics

Aristotle University of Thessaloniki, Thessaloniki, 54006 GREECE.

Tel: +30-31-998062, Fax: +30-31-995384

E-mail: chriss@astro.auth.gr
---
---
THESE PAGES HAVE LAST BEEN UPDATE A LONG TIME AGO..... (1995 ?!)
I am trying to find some time to update them... but......

---
---
Do you want to send me a message ? chriss@astro.auth.gr .